Brother and Sister: Georgia and Max
Personalised hand and foot print mugs: for Grandparents, Godparents, Aunties, Uncles, Friends - whatever you do, don't leave anyone out! Or simply have just the hands and feet.
Our easy-to-use kit contains an inkless imprint wipe and specially coated sensitised paper to ensure no mess or fuss. Or if we have your prints already, you can order straight away.
For larger hands or feet, we can put them on the mug diagonally. Typically, footprints up to six months and hand prints up to eighteen months will fit on the mug.
Price List
Ceramic Mug Repeat Copies Postage and Packing
£20.00 £12.00 £4.50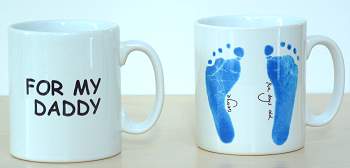 Boys Feet - George - six days old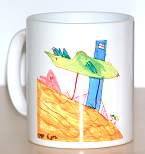 First Work of Art: Hugo 6 yrs old - Space Chicken
include 'hhorderlink.inc'; ?>